Auto Paint
Whether you have a few dings or scratches, or you need a complete paint job, Atlantic Coast Collision will provide you with a clear estimate, quality products and impeccable craftsmanship.
Quality Craftsmanship
At Atlantic Coast Collision we take the time to do it right. Regardless of how big or small the job is, we make your vehicle our highest priority and treat it as if it was the only one in the shop. Our technicians are precise, careful, and experienced.
Quality & Color Matching
At Atlantic Coast Collision we strive to provide the best service possible for our clients. That includes properly matching the current paint of their vehicle. Many discount companies offer to paint your whole vehicle for $300, but chances are the end result will never be your original color.
We only use quality, eco-friendly auto paint designed to not only last a long time, but also provide a low impact on the environment.
No Repair is Too Small
From a simple scratch to a whole new paint job, we do it all. Whatever it is you would like to improve on your car, bring it over and we will give you a free, no-obligation estimate.
Rental Car On-Site

We have Enterprise car rental on premises, so you don't have to get a ride to go get a rental car, or wait for it to be delivered. All the paperwork is done in-house and we have the rental cars on our lot. It couldn't be easier!
Request a Quote Now
Request a Free, No-Obligation Quote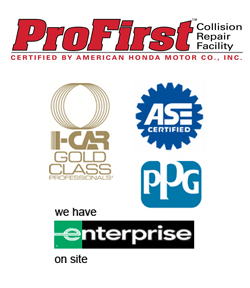 A few of the insurance companies we work with: