Auto Body Work
At Atlantic Coast Collision we know how difficult it is to deal with a car accident, and we are here to HELP!
Our friendly team will work hard to make your experience as stress free as possible, from the first call, to the moment you take your car home. To schedule an estimate, call: 954-969-7661 . WE WORK WITH ALL INSURANCE COMPANIES
We Work on All Cars
We work on virtually all brands and models. Our services include full body and interior work, paint, mechanical repairs, and more. However bad your car was hit, if it repairable, we will make it look like nothing ever happened.
Rental Car on Premises

We have Enterprise car rental on premises, so you don't have to get a ride to go get a rental, or wait for a rental car to be delivered. All the paperwork is done in-house and we have the rental cars on our lot. It couldn't be easier!
We Come to You
Are you too injured to drive your car to us? Was your car towed back to your home but inoperable? No problem! We provide free on-site estimate for repairs, so you don't have to worry about bringing the car to us if you can't. We'll even leave a rental car behind when we leave!
Quality Service & Materials
At Atlantic Coast Collision we strive to provide the best customer service while still maintaining quality service at affordable prices. We care about our customers, so we never stir people toward bad quality materials or paint because they are cheaper. Our technicians are skilled, meticulous, and will treat your car with respect.
No Insurance or on a Budget? No Problem!
For customers who are on a budget or are not covered by insurance (or with high deductibles), we offer our Alternate Repair Program. With the Alternate Repair Program you are not comprising safety or quality of craftsmanship. For our Alternate Repair Program we use used parts, and straightening/repairing damaged parts (when safely possible), rather than replacing for new. The goal of the program is to get you back on the road as affordably as possible. Our goal is to provide an economical solution to help you get your car safely back on the road. Please feel free to call us with any questions regarding this program.
What We Do
Frame Repairs
Mechanical Repairs
Fiberglass Repairs
Custom Refinishing
Dents/Scratches
Color Matching
Free Estimates
Computerized Measuring
Full Frame Analysis & Repair
Advanced Frame Repair
Unibody Repair
Structural Damage
Steering & Suspension Analysis
Windshield & Glass Repair
PPG Certified
Request a Quote Now
Request a Free, No-Obligation Quote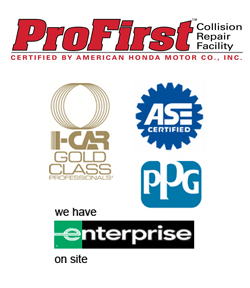 A few of the insurance companies we work with: